Design Indaba's longstanding Emerging Creatives Programme in collaboration with the Department of Arts and Culture, founded in 2005, has helped launch the careers of celebrated and vibrant young designers such as Laduma Ngxokolo, Katherine-Mary Pichulik, Daniel Ting Chong and Andile Dyalvane.
The class of 2018, showcased fresh new talents across a multitude of design sectors. Namely, architecture, fashion design, illustration, furniture design, jewellery, graphic design and multi-disciplinary mavericks. These designers were selected based on their work's quality and originality and its ability to stand alongside world-class designs. This year, there were 50 young designers, 40 of whom showcased their work in Cape Town at the Artscape Theatre Centre and 10 showcasing theirs at LISOF, as part of the Design Indaba Johannesburg Simulcast. I attended the Design Indaba Johannesburg simulcast, which took place during the Design Indaba festival, and managed to chat with some of the emerging designers who were exhibiting their work at LISOF.
Ayanda Nkosi
Nkosi is a 24-year-old creative from Vosloorus, East of Johannesburg. He was enrolled at Johannesburg Central College for a diploma in graphic and design. Nkosi, however, did not complete his studies due financial constraints after losing his mother in 2013. As Nkosi did not study fashion design academically he does not identify himself as a fashion designer. Midst conversation Nkosi stated that even though he makes clothes he doesn't want to be titled as a fashion designer as he does other things such as DJing and decor consultancy.
He also stated that although he does make clothes he does not identify as a fashion designer because he did not study fashion designing academically. He was enrolled for a graphics and design diploma at Johannesburg Central College, however, he didn't finish due to financial constraints after losing his mother in 2013. His design brand offering 'RetroSleepPiece' and 'RetroWalk' are made from Ityali – a traditional Xhosa blanket. His products' prices range from R350 – R900.
Refentse Mokale
Mokale is a Pretoria-based visual artist and accessory designer. The 28-year-old chemical engineer turned accessory designer, worked in the engineering sector for 4 years before she left it to pursue her dream as an accessory designer. It has been almost 2 years since the development of her brand, Marabou Essentials, which produces jewellery for the body and wall. Mokale is a self-taught designer.
She says that she started designing because she likes looking beautiful. The ethos of her accessories is that it affirms African stories. She uses shapes, colours and patterns that are mixed with cultural group designs and a collection of various cultures. You can purchase her collection on www.marabouessentials.co.za
Lucky Phatle "Punoo" Mashilwane
Mashilwane is a 26 year old fine artist who specializes in using a ballpoint pen for creating his work. His most fruitful project was an exhibition at DECOREX SA in 2017 and About Friends Gallery in Johannesburg, where he exhibited his body of work. "My work is autobiographical it is based more on my adaptation of stories, fantasies, and dreams and also stories of my friends. How we can unlock our potential and really succeed in the modern world, where like it is influenced by design, technology and other aspects of life that are more interesting like fashion. So, it 's more also about the effect that other people have on our lives. It is amazing how you can meet a person and in five minutes they can change your perception of life and how you view certain things. My work is more about that. It's more like the journey through ink, so that is the whole expression behind it" said Mashilwane.
Cole Ndelu
Ndelu is a 23-year-old photographer from Durban. She graduated from Stellenbosch Academy of Design & Photography where she studied Visual Communications majoring in photography. She defines her photography style as a fusion of fashion and conceptual documentary. She mostly collaborates with and takes photos of her peers, documenting them from a conceptual perspective. Ndelu states that most of the shoots that she has been involved in thus far have been styled by her. And that she tries to be as involved as possible in the creative process as she is very specific about the components that make her image, makeup, hair and accessories. She curates the image in totality before picking up the camera.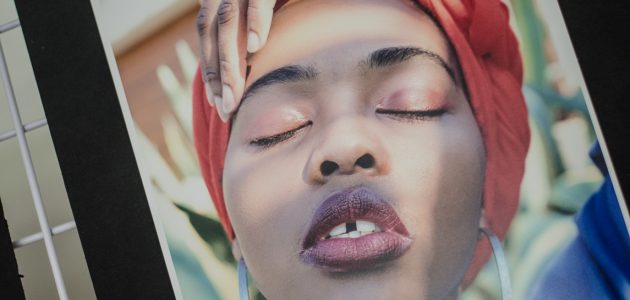 The emerging photographer has exhibited her series called '#Black GirlMagic' at Somerset House in London, as part of the Sony World Photography Awards. Her work has travelled from London to New York, Milan and Berlin. She attended the exhibition and awards dinner in London. She was also nominated in the student-focused category top 10 and was the only student from Africa who made the list. One of her future plans is to start a digital art magazine portal called MUSE AFRICA.