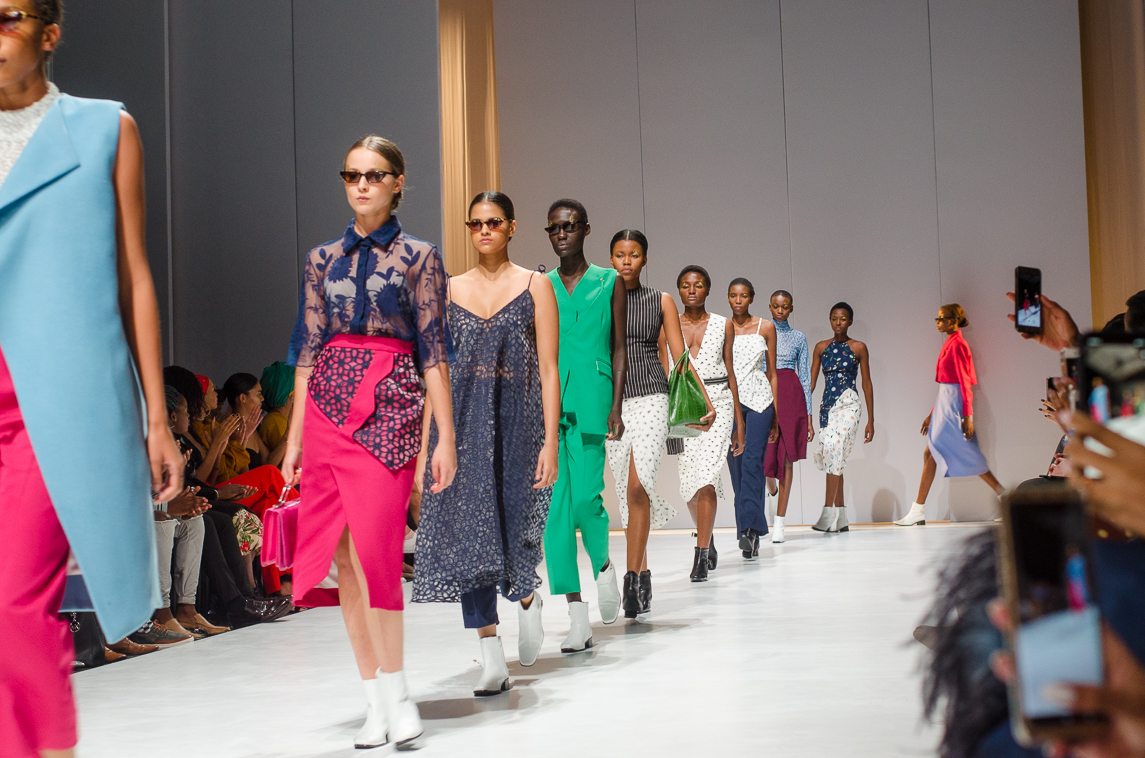 The winners of the SAFW Sunglass Hut New Talent Search, MmusoMaxwell's first independent collection was inspired by sign language. Mmuso of the design duo stated that they liked the interweaving of hands and fingers when someone is communicating through sign language. Which transcends into communication thus their thinking as fashion designers were that clothes can be used by their wearer as a form of communication. "For example when you wear colorful clothes people assume that you are happy," said Mmuso.
The two David Tlale Intern alumni, Maxwell Boko and Mmuso Potsane best known for their minimalistic design aesthetic with intricate pattern making skills presented a more colorful 11 look collection taking a break from the muted colour palette one has come to expect from them.
Having won the SAFW Sunglass Hut New Talent Search 2017 with a prize that included a trip to London Fashion Week. The young designers instead decided to cash-in on the prize and inject the price value of the prize into their new business. They bought business assets such as mechanical sewing equipment and with the rest of what was left they used that money to buy fabric and pay for a slot to showcase at SAFW SS18. It was impressive to hear this because any other younger or older designer would have grabbed the prize and shipped off to London to be a spectator. Boko said "we thought about it and said we would go to London, come back and then what? We have reached a point in our career where we made a decision that we are going to invest in our business. So instead of going to have fun in London, we invested in our business because that machinery is going to stay long-term and this show will be helpful (ed. note: from sales and marketing perspective)". Boko stated that a trip to London would have been for a week or less, and they wanted something that would sustain their career beyond being the winners of Sunglass Hut New Talent Search 2017 competition.
Given that the two are young designers who are equally talented and each has a very strong design agility I was curious to find out how the merge of the two came about and how the relationship between the two is holding.  Boko said they were initially told that their partnership to form one fashion label was the worst idea they could ever implement because they both have "strong personalities". Boko admitted that in the beginning, they did have friction because although they had similar design aesthetics, they had different points of views on things. However, through time they found their common ground which resulted in a positive and result driven relationship as they started working faster to complete tasks as a team.
When I was in marketing school the 4Ps (product, place, price, and promotion) were one of the most popular concepts to spring up in every discussion throughout my four years of tertiary education. As a designer you produce a product and this product needs a place where it will be stocked and sold at a profitable price. Hence the issue of retailers for local product designers is a serious one that needs the help of both private and public sectors. Boko said that currently there is not a single store that stocks their products locally, as beautifully made as they are. They are however stocked by a store called "The Narrative" in New York City. He exclaimed that "but we want South African retailers. You know, you want to be celebrated at home." Being stocked by a store in New York is great and a positive thing for global brand awareness and sales, however, it is tricky because of the logistics required to service an international retailer especially when you are an emerging designer. Being stocked locally grants you the opportunity to learn from the glitches you might experience and thus being able to resolve them within a short time frame.
What was meant to be a two minutes chat about their spring summer 2018 collection with Maxwell Boko turned out to be a fired-up conversation, whilst Mmuso Potsane backed the garments in luggage bags from the collection they just showcased.  Maxwell Boko, Mmuso Potsane, and Ayanda Velase are some of the best young designers and pattern makers we have locally that I have gotten to know when they interned with David Tlale. It has been interesting to see their growth and to see them branching out to find their voice. Watch video HERE