Icebreaker
I have lost count of how many times I have seen Johnny Cradle perform. All I know is that I have been to enough of their live performances to know what to expect from them. When I received an invitation to the showcase of their new music from their self-titled debut LP album 'Johnny Cradle', live at The Orbit Jazz. I had to be there to see what the boys have been working on outside the festival circuit. I asked if I could attend their final rehearsal on the day of the show so as to see what are the ingredients that meticulously get thrown together in order to make a live show of this calibre, and also just to chat to the boys about their work and everything in between.
Who is Johnny Cradle?
Word on the street is that there has been more than one version of Johnny Cradle. In 2016 Rifumo Mdaka said " Johnny Cradle has been through more band member changes than Destiny's Child", not certain if this is a fact or a case of a writer purely exercising their creative license to add some colour to their piece.  In conversation with the original founding member Sakumzi Qumana, he made it clear that he would rather focus on Johnny Cradle of today, the second incarnation as a band, instead of the past. Speaking to Mail and Guardian in 2015 Qumana said "People get stuck on what we used to do before as Johnny Cradle, but this incarnation of the band is it! I'm not interested in those previous versions of Johnny Cradle.
Qumana further elaborated in his interview with Stefanie Jason (from Mail and Guardian in 2015) that the band started off with him and two of his friends in Port Elizabeth in 2006. He then went solo when he relocated to Cape Town in 2008, however later on in the year he met a scratch DJ, DJ Laz, and the band of two took a more electronic path. Qumana then moved to Joburg in late 2009 and put a pause on his music career for about a year. In 2010 when he was working as an illustrationist, he met Chris Lombard, who worked in the same company as him, and they have been working together ever since then, until not too long ago when Chris left the band.
Background check
The now Johny Cradle band was created by Sakumzi Qumana, keys and synth-player and lead vocalist, in 2013. He was then joined by Chris Lombard, the lead guitarist, in April 2014 who then left the band in 2015. Tebogo J. Mosane, drummer and backing vocalist, joined the group early 2016 and the final member to join the band later on in 2016 was Lazola Ndamase, turntablist (scratch DJ).
When asked what else they do beside music. Saki creative director), Laz (business intelligent strategist) and Tebogo (multimedia designer) drove home the point that having 9-5 jobs in order to fuel their music careers is not the case with them, instead they describe what they do (when off stage) as part of who they are and they do not view it as a means to an end.
  Personality Traits
The band's name, Johnny Cradle is a personification of a man made up by a culmination of different traits that the three band members possess. "Johnny Cradle is a variation of moods. Johnny Cradle is a person, it is a personification of  our combined influences, behaviours etc. It is a personification on its own and is represented by the movement. So, if you take away the music it is what that guy is" said Ndamase.
Saki chipped in to further elaborate that Johnny Cradle is an outwardly holistic person who is open about what makes them who they are He can party, like girls and still be socio-politically conscious. Like they say on social media "get yourself a man who can do both" and it looks like Johnny Cradle is that man. "There is nothing closet about Johnny Cradle," said Saki to which I respond "… so Johnny Cradle is out!", "Yes, for real, Johnny Cradle is out, you can use that as a thing," said Saki.
As Rifumo Mdaka stated in his piece titled –  Johnny Cradle readies a new gospel for the underdog – "Johnny Cradle is at once everyone and no one."
What was different about the set they played at The Orbit on the 31st of March 2018
The set comprised of new material which would later go in to their new album, so the performance was a work-in-progress of a finished project that will later be recorded and released as a second album Prior to the show Ndamase said that "in terms of the sound, the sound itself is more personal". To which Saki added that "a lot of it (the show) is more first hand and is definitely more Xhosa. It is definitely more proud; more proud in a sense of being vocal and open about it…"
Saki felt strongly that as artists. Johnny Cradle's showcase needed to tackle and be vocal about socio-economic, current affairs, and socio-political matters such as "Inxeba", Xenophobia, Men Are Trash hashtag movements and so forth. Saki was outspoken during his performance on the night which was met by contestation from some audience members but as he mentioned earlier, these were their personal views or rather holistic Johnny Cradle's views. As a collective they were (are) taking a stand to not remain neutral on current sociopolitical subject matters that affect them as members of society. I suppose when someone starts talking and says upfront that 'these are my views', you must listen to their point of view, even though you may not agree with them. Hard as it may be at times.
The set list consisted of 8 songs. I was then interested to find out if the overarching theme of the show was sociopoliti or if there was a specific song that dealt with all these sociopolitical matters?
"All the songs tackle all these matters. And by 'personal' we mean we are going to be preforming songs that expresses our personal views. One of the songs is going to talk about death. Going through that and what that means. As a man you should cry, so you are going to cry but after you cry you are going to find a way. How do I heal, what does that mean because some of us have not gone through a lot of death so when you do? So now you are finally caught up in this thing and how do you deal with it" said Saki
His words manifested on the night. A few lines in to a new song called "Wake Up" dedicated to his late father, Saki got emotional and stopped singing the song stating that he thought he could sing the song but he couldn't and that maybe he would be able to one day.
 Does Johnny Cradle prefer a crowd that sings along or a crowd that listens ad affords them an opportunity to sing and perform for them?
"We like a crowd that interacts. For sing-along songs, they must sing along and they must react openly about how they feel about these songs. If you do not like a song you do not like it. If you love it, you must go crazy and show that you love it."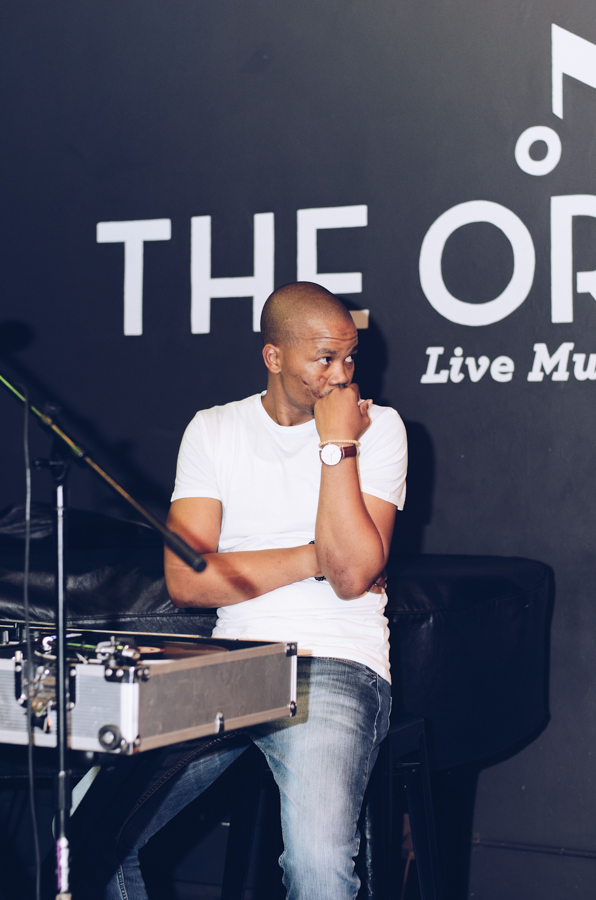 You can watch their new video for their new single 'Salut" here. Follow their Twitter page to find out about their performance here. You can buy their new albums at all leading music stores nationwide or online.