A human-like calmness. That is what the name, Sekamotho Phomolo name roughly translates to in Setswana and or Sesotho. Motswana orile 'ina lebe ke seromo' and Phomolo fully embodies that. He sits assured in stillness even in moments of visible sheer vulnerability. He is intentional with his carefully selected words, the use of language and how they land. An intersection where intention and impact are woven seamlessly together.
Within Phomolo Sekamotho lives an extension of self, named, Flex of He & I. The pseudonym Flex of He & I, what's in the name? "I am Flex of the band He and I. I am an individual but I work with a group of musicians that form the band… He and I, I came up with it when I was super Christian way-back-when. It was just an acknowledgement of a higher being… there is God, and Here I am in anything that I do. That was the meaning back then but I think right now, you know, He and I, is whatever that you want it to be because we not alone we are a community… I think he and I, can be many things to many different people"
A name is a concrete concept. The beginning, a pause, a continuation or the end of a sentence or a stroy. Most often rooted from private thoughts, a prayer or a meditation session, a conversation with the higher being, force or energy. My spiritual contextualization of the name, 'He and I' is; I stand here before you and me bare with all that I am. Creatively what I get is, you will experience my gifts (of art) through (-with) an ear or an(d) eye.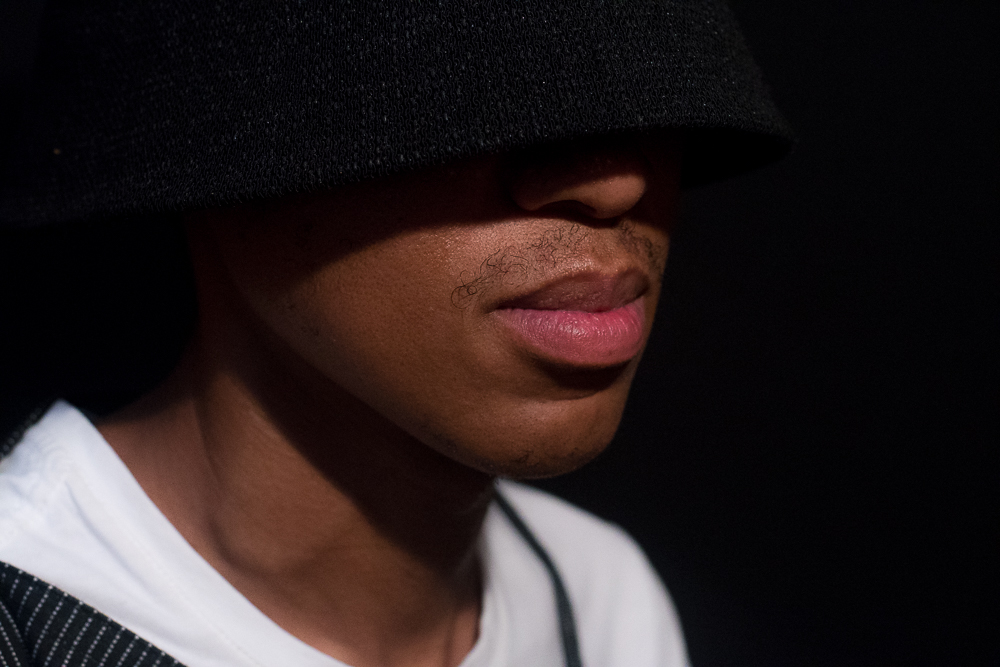 Phomolo Sekamotho is a 31year old writer, poet and musician currently based in Pretoria, South Africa. He was raised by his mother and grandmother. What those women mean to him is a bond so strong he permanently wears their names on his sleeve in a form of ink on to the skin of his left forearm close to his heart. To always do right by them. He grew up cloaked in feminine energy that shaped the person he is today and that simultaneously comes up in his work in a sense that "I think I am strong individual because of my mother and because of my grandmother. I don't know my dad. So, everything that I am and all the things I know about me are because of my mom and her mom and my great-gran. When I think of them, I think about love and I think I am loving because of who they were and how they did things. When I think about my mom I just see this painting of sacrifice and doing what needs to be done and I think you see it with me as well… basically making use of what you have to create something. I think I learnt that from my mom. Making something out of di-rough-cut."
Phomolo holds a Finance degree from the Tshwane University of Technology. When he completed his matric he chose a degree in Finance as opposed to the Arts because, life.
For him, it was not a classic case of parents influencing his decision to study a 'serious degree'. There has never been that tension because he comes from a household where multiple art disciplines were appreciated, practised and understood. "I am not from a musical family but I am from a very creative family. When I think about my mother and her dad and just looking at the lineage, they are creative beings… They are always doing things with their hands and making something out of nothing. I think its something that's inherent. I don't think I realised that I was good with words until people started saying, 'you are good at something'… but I realised later on life that I can actually play words, and bend words and manipulate words."
Phomolo became aware of his keen interest to words and the use of language in Grade 8 whilst in boarding school "boarding school opens up one to a lot of things. I think you discover a lot about yourself. You start doing a lot of things even though you don't necessarily stick with them, I think it is an experimental phase."
Structurally, he contrived the words to take a form of poetry, which led to spoken word and now music. The transition, "the writing came first, definitely, I went to boarding school and I was jotting down things. I think back then it wasn't poetry necessarily but when I moved to Pretoria that's when it was refined and that's when I started immersing myself into the art form. After the poetry cam the music. Poetry, definitely came first… the writing happened, then it became poetry, and the poetry informed the music."
Phomolo has been working on a body of work titled Pieces of a Struggle (POAS) "it emanates from pieces of a puzzle. A puzzle has different pieces that you need to gather, that you need to find, to create a bigger picture. And I feel like that's what life is, trying to find pieces of ourselves to create this image that is whole. But the thing is, as humans we are not perfect and just because we aren't perfect doesn't mean we aren't whole and that's the story we wanted to tell with the songs we selected."
POAS is a multidimensional project that includes a nine (9) tracks album, motion visuals for all of the songs, a digital poem booklet "because there are people who appreciate reading poetry and because that is the core of what I do I am catering to that market. I didn't just want to immerse the poetry into the music without giving people the written word. So, there is poetry."
The work is sensory stimulating and thought-provoking mostly because when experiencing the work there is a sense of discovery, vulnerability, honesty and newness – newness in a sense that it is an updated take to old ideas from a unique perspective that is not heavily gimmick-image-oriented.
Phomolo believes that African spirituality is something that is currently moving the needle. What still surprises him most about people? is people who still gets surprised when racist people act racist. He defines success as doing what he wants to do at his own pace, doing it how he wants to do it. Enjoying it and being happy with what he does. The lesson he is still learning is 'to step outside of myself to engage people, to speak more, it is very important. I realised that I want to do things in a particular way. I am a reserved person but to get by you need to have conversations, you need to talk to people." He defines love as a decision because feelings are fleeting but love is a decision one makes to stay in a particular space.
His personal mission statement is "live and let live" he is most happy when "chillin' on my couch". He believes in 'God' and defines God 'as a friend, someone that's there for you, always " his daily prayer is "May I continue to be a reflection of your grace". What he wishes for himself "to be something and nothing all at once."