Gert-Johan Coetzee is a 33years old North West School of Design fashion graduate who was discovered by television personality Sandy Ngema in 2004 whilst still a fashion student. Then Strictly Come Dancing's host, Ngema commissioned Coetzee as the show's wardrobe designer. It was in 2008 whilst on the set of Strictly Come Dancing where Uyanda Mbuli was a contestant that she met Coetzee. The two took interest in one another's work and formed a working relationship. The industry connected, Mbuli had the business acumen and funds whilst the young Coetzee inherently had the fashion design talent which had been nurtured from an early age by his family support system.  
In 2009 Mbuli and Coetzee entered into a 50% fashion business partnership to form a fashion brand name called Diamond Face Couture (DFC). It was during this era that his design work shot to popularity with the help of then DFC's prominent muse and media personality, Nonhle Thema and other well-known industry names. In 2010 – post the well-publicised DFC partnership split – Coetzee launched his eponymous fashion business, Gert-Johan Coetzee at the age of 22. The first design ever produced under this label reminiscent of the DFC aesthetic was Thembi Seete's turquoise pom-pom tulle party dress with an embellished yellow butterfly cinching detail won at J&B Met 2010. In between the company's inception up to this date.
The GJC fashion business has produced some of the most memorable fashion shows, conscious driven business partnerships, and dressed some of the most popular and asserted women and men in the world. Fast forward to 2020 in celebration of 10years operating in the South African fashion & textile business.
Gert-Johan Coetzee together with his business partner, brand manager and husband, Vicky Visagie curated the Gert-Johan Coetzee 10years Fashion Retrospective exhibition. Taking place in Sandton City's Diamond Walk, in collaboration with Martini Dolce 0.0. from the 19th of March until the 26th of April 2020. The exhibition showcases some of his most iconic garments as well as the women who wore them. He said they decided to tell the story of colour as opposed to setting the exhibition in a time frame format.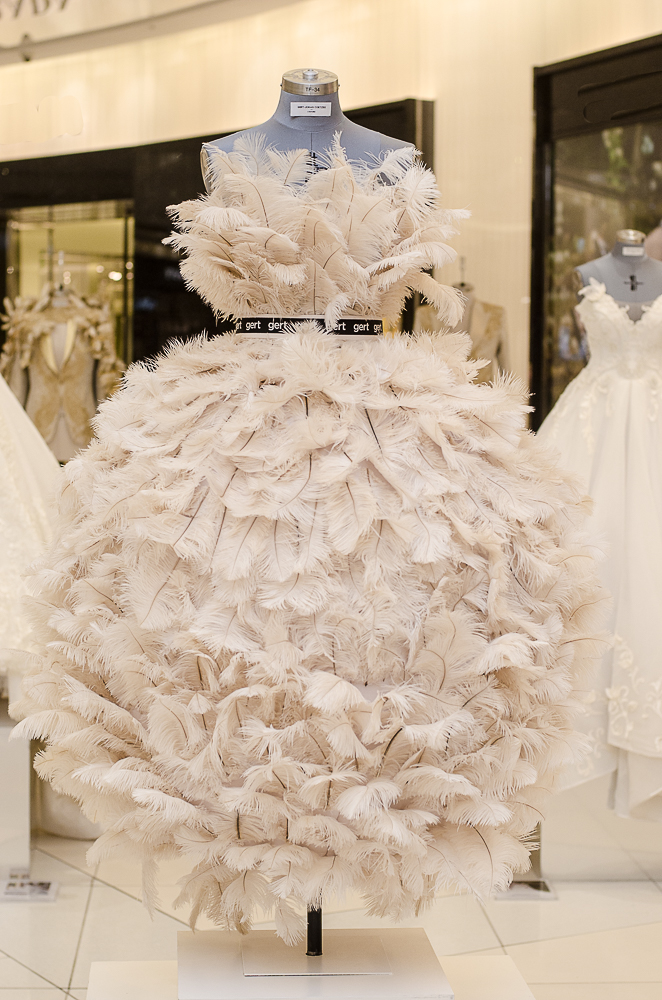 The exhibition opens with one Gert-Johan Coetzee long-standing muse, Bonang Matheba's colossal cerise pink ruffled tulle gown with cupped corset embellished with corded lace that she wore to her 30th birthday dinner party in 2017.
The pieces are set up in a manner that you manoeuvre through the explosion of colours, holographic sequins, feather details, elaborate hand-beading, and Swarovski Crystals embellishments. Towards the end, it releases to pieces from GJC's bespoke bridal collections in a selection of whites, champagne, ivory, off-whites, vanilla, and bone colours.